News
Meet Paul Paschall
In case you missed last month's issue of Clear Lake or Lost Creek Living Magazine...
Sponsor Spotlight: Meet Paul Paschall of Paschall Insurance Group, LLC
Written by Elizabeth McCabe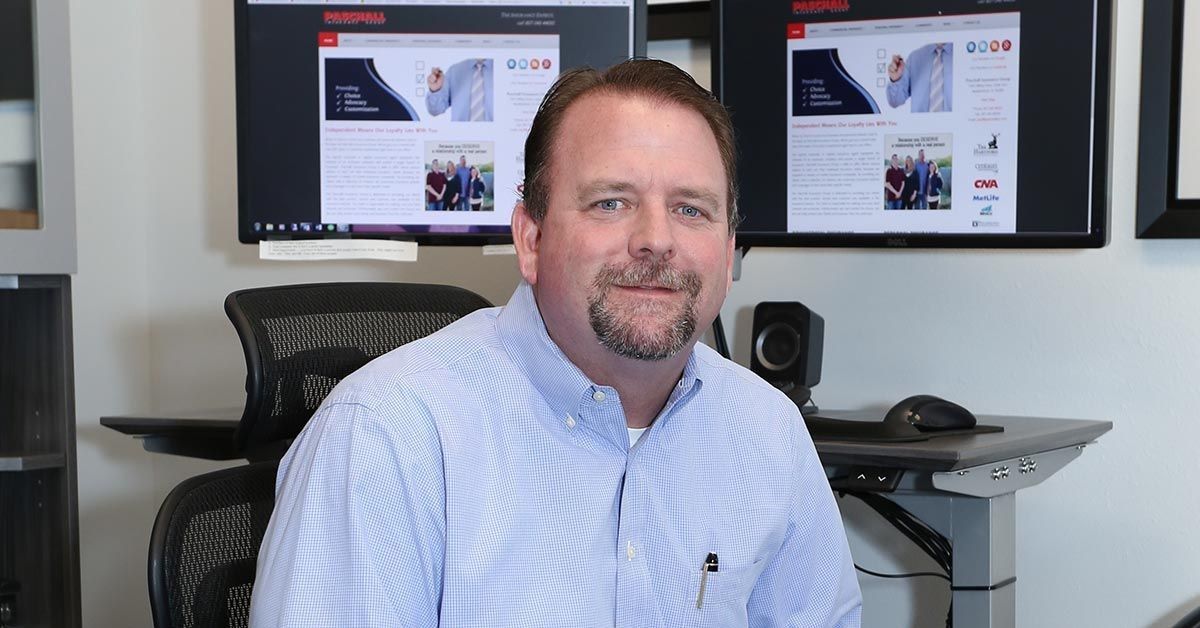 Love what you do and you will never work another day in your whole life. Paul Paschall of Paschall Insurance Group, LLC says, "As nerdy as it sounds, I love insurance!" He discovered his passion back in graduate school at Tarleton State University. He shares his story, "While in graduate school, insurance and the role it played in society was a topic that fueled my interest. A fellow graduate student who was established in the insurance industry, encouraged my curiosity and aided in navigating my career path. The guidance he provided helped me to meet the right people and led to my first opportunity in the industry, immediately upon graduation."
Paul began his insurance career as a captive agent with Farm Bureau Insurance in Johnson County. A few years later, he moved to the metroplex with his family where he opened his own office and became a captive agent for Allstate Insurance. Several years later, Paul purchased an existing Allstate agency in Weatherford. Paul says, "My family and I were ecstatic to move west and make our new home in Parker County!"
This dedicated insurance agent finds his work rewarding and fulfilling. Paul comments, "I love being an agent and helping people properly protect what matters most to them. It's my passion. As a captive agent, my ability was limited; I had only one 'brand' of insurance to offer my clients. After careful consideration and much prayer, I decided it was time to make a change that would allow me the freedom to represent my clients and not the 'brand.'" That's exactly what he did when he opened his own agency, Paschall Insurance Group, LLC.
Paul comments, "Paschall Insurance Group is an independent insurance agency that directly represents dozens of top rated insurance carriers. Our specialized team represents the interest of our clients first, not the insurance company." Personal insurance and commercial insurance is their specialty. Every team member in the office is fully licensed and has the ability to assist clients with questions and/or consultation.
After more than a decade of serving as a captive agent in the industry, Paul now enjoys the freedom and flexibility of providing his clients with options. He explains, "Our agency excels industry standards by providing individuals with an excellent and personal one-stop shopping experience. Exceptional products and service with competitive pricing is guaranteed because we are able to access coverage from a multitude of top rated insurance companies. Also, as the market and your insurance needs change, there is no reason to switch companies or shop rates – we take care of it all in-house for you!" This makes it extremely convenient for our clients.
What's great about Paschall Insurance Group is that each team member in the office consults; they don't sell. Paul adds, "Our team compiles all relevant information needed to price your insurance protection in all of our markets. We then analyze the protection choices and pricing and provide you with one or more solutions to evaluate. Additionally, none of our team members are paid sales commissions, nor do they have sales quotas. Therefore, this allows them to encourage the absolute best solution for your protection through consultation and a solutions-based approach."
Paul has some advice for the residents of Parker County. He says, "I highly recommend an annual review of your insurance policies, both commercial and personal." After all, coverages change, pricing changes, discounts change and the market appetite from insurance carrier to insurance carrier can change from year to year. Paul adds, "One major point is that you get what you pay for in this industry. Weekly, we have individuals visit our office who received a 'great deal' somewhere else and are often very disappointed when they have a claim or need servicing on their policy."
Paul's Background
Paul was born and raised in Irving, Texas and spent the next part of his life in Stephenville at Tarleton State University. He and his family have lived in Weatherford for 13 years. He is married to his wife Courtney and they celebrated their 20-year wedding anniversary this year. They are blessed with two children. Their son Walker is 18 and is a freshman, studying engineering at Texas A&M University. Gencye, their daughter, is 13 and a seventh grader at Hall Middle School.
When Paul isn't working, he likes to give back to the community as do his team members. He and his team volunteer locally for many different organizations. They are also members of local churches and would appreciate the opportunity to be your local insurance agency.
For more information on Paschall Insurance Group, just check out their website, www.paschallins.com, or give them a call at 817-341-4400. Paul and his highly qualified team would be honored to help you with all of your insurance needs.