News
It is hard to believe, but we have been in our new office a little over a week now! We love our new building and the convenient location where it resides. Our Team has truly been blessed with wonderful friends, clients and community leaders; all visiting us at the new office and offering their well wishes and support. It has no doubt been an amazing couple of weeks!
I thought since we have moved to a new location, I would go back to the basics in this blog and give you an overview of what Paschall Insurance Group is all about.
Paschall Insurance Group is Parker County's Trusted Choice Independent Insurance Agency. Paul Paschall and his team have more than 100 years of combined insurance experience in personal and commercial lines of insurance. The Paschall Insurance Team is dedicated to ensuring your family and business are properly protected from life's unpredictable moments.
Paschall Insurance Group is Independent from all insurance companies, this means that our loyalty will always remain with YOU, our client! The typical corporate or captive agent works exclusively for one insurance company and is obligated to provide insurance through only that company, leaving the consumer with only one option. Paschall Insurance Group works exclusively for the client. Representing over fifty top-rated insurance companies, our team is provided the freedom to design a policy that will custom fit your specific needs. As a Trusted Choice Independent Insurance Agency, Paschall Insurance Group will allow you to have zero worries by knowing that you are protected with the best product, price and customer care available in the insurance industry.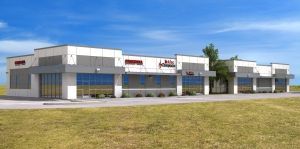 Yay... It's Time!!! Our new commercial building is finally ready and we are excited about getting all moved in! Our current office location will close tomorrow, Friday January 15th at 12:00pm to allow for relocation of our computer and phone systems. We will open at our new location, 930 Hilltop Drive - Suite 100, Weatherford (down and across from the Weatherford Post Office) on Monday January 18th at 8:30am.
We look forward to seeing you at our new location!
Most all of us, around this time of the year, make a resolution or two for the New Year – drop 10 pounds, stop smoking, eat healthy, save money, etc. Sound familiar?
They're the standbys we turn to from year to year, because attending to our health and our financial stability just feels good.
You know what else feels good? Knowing you have the insurance coverage you need, in each aspect of your life.
For many people, insurance is a buy-it-and-forget-it kind of thing. So, I'm proposing a shift in the way you think about insurance and the way you think about New Year's resolutions. Yes, just in time for 2016, here are six insurance resolutions I think will help make this year your most secure year yet – give them a try!
I will do a total insurance review with my agent. During the course of the year, things change around your home, with your car, etc. You might add a pool or shorten your commute. When these kinds of things change, your insurance should change, too. Sit down once a year (or more often, if needed) with your independent insurance agent for a thorough review of your coverages. That way, you aren't carrying too little (and putting yourself at risk) or too much (and paying more than you need to).
I won't be underinsured. As mentioned above, carrying too little insurance puts you at serious risk. Carry too little home insurance and, if it ever comes time to rebuild due to a fire or other covered loss, your policy won't cover the full cost. You'll have to cover some of the costs yourself or else make some hard choices, such as which features of your former home to forgo. These are heart-breaking circumstances, trust me. It's also easy to carry too little liability insurance, either by having low limits on your auto or home policy or by not having an umbrella policy. People, lawsuits are expensive. I hope you never experience one, but, if you do, having the right insurance could really pay off for you.
I will maximize my insurance discounts. As insurance agents, we think like you think. So when you ask, "how can I pay less for my insurance?", we have answers. But, oftentimes we need your help. To save on your home insurance due to your state-of-the-art alarm system, for example, you may need to provide certain documentation. Please be mindful of providing it right away. We know you want to keep your insurance costs down, and we can help.
I will update my personal home inventory. You've got some good stuff in your house, right? Stuff you love. Stuff you really, really love. Well, have you taken inventory of it? You may have inherited some antique coins this year or gotten some nice jewelry for a holiday gift. If so, add it to your home inventory, and chat with your independent agent about how your collections, belongings and pieces are covered. Don't have a home inventory? Then this is the resolution for you! Go from room to room, catalog your belongings and what they're worth – photos, receipts and appraisals all help. This, of course, helps if you're ever in a situation where you need to replace some or all of your belongings due to a theft, a fire or some other incident.
I will make managing my policies easy. Today, insurance carriers offer paperless billing, automatic payments and other ways to simplify. Take advantage of them and you'll reduce clutter and save time (resolutions we all have!).
I won't neglect my other insurance needs. Do you own a personal watercraft or ATV? Do you live in an area prone to flooding? Do you have a home business? These all require special consideration. So, don't leave your toys unprotected, and don't overlook your unique insurance needs. Your independent insurance agent can help you check for areas of unaddressed risk or gaps in your coverage so you don't have an unpleasant insurance surprise in 2016.
You think about insurance when you purchase it, and you certainly think about it when you need to file a claim. Think about it as you head into 2016, too, and make sure you have the proper coverage in place. Then you can get back to slimming your waistline and fattening your bank account.
Happy New Year everyone!
For generations of children, it's been the most obvious sign that the Christmas season is really, truly, finally, here: a tree, beautifully decorated, smack in the middle of the house. And, for generations of adults, getting and decorating the tree is one of the season's most familiar traditions.
That familiarity, though, can be a problem. When a tradition becomes too familiar, it's easy to overlook something important, such as safety.
As enchanting as they are, Christmas trees can actually be dangerous. In fact, the National Fire Protection Association says that, on average, fire departments respond to more than 200 fires related to Christmas trees each year.
To help ensure your local fire department doesn't need to pay you a visit this holiday season, here are some common-sense tips on Christmas tree safety:
Selecting and Setting Up Your Christmas Tree
Choosing artificial? Check for a flame retardant label or certification.
Getting a real tree? Make sure it's fresh, with green needles that don't fall out when you give the tree a good shake. Brownish needles signal a dry tree prone to catching fire.
No matter the tree type, keep it at least 3 feet away from any heat source, such as a fireplace, radiator, candles or lights. And, make sure it's not blocking an exit.
Before placing a real tree in its stand, trim the base about a half-inch, cutting perpendicular to the stem axis. Cutting at an angle or into a V-shape makes it harder for the tree to get water.
Speaking of water, place your tree in water as soon as possible, in a stand with adequate capacity. One rule of thumb: a quart of water for each inch of stem diameter.
Decorating and Maintaining Your Holiday Tree
Don't connect more than three strands of lights together, and check them for frayed wires or excessive wear. All lights, and other decorations, should be flame retardant.
Water your real tree a little each day to keep it from drying out. Never let the water level fall below the base.
Turn off the lights when you go to bed or leave the house.
Take your real tree down after about two to four weeks, even if it's been watered regularly. Check for recycling options for disposal.
We know a Christmas tree can be a special part of the holidays, and we want you to enjoy the tradition safely!
One of the most certain things in life is, certainly, uncertainty. Your dog could bite the neighbor's kid. Your teen driver could hit a cyclist. A guest could fall down your stairs. A rainy morning commute on worn-out tires could result in a multi-car accident. And you could be held liable to others for the cost of damages – injuries, property destruction, emotional distress, lost wages and more.
Good thing you have insurance. But, wait, your policy covers $300,000 of liability, and, in a lawsuit, you're judged liable for $1 million. That leaves $700,000 left to pay. How will you cover it?
If you have umbrella insurance and your policy covers the incident, the additional $700,000 will come from your policy. If not, it will come from the assets you have now, such as your home and savings, and from future assets, such as your wages or inheritance.
The fact is, it only takes one serious accident and a resulting lawsuit to put everything you own – and will own – at risk. And it only takes one umbrella policy to help protect it all.
Here are a few things you should know about umbrella insurance:
Personal umbrella policies typically offer $1, $2, $3, $4 or $5 million of liability coverage. Consider your net worth when choosing your coverage –you could be sued for everything you have.
An umbrella policy is not a stand-alone policy. Your insurance carrier will typically require you to meet certain qualifications, such as having an auto policy with a certain level of liability coverage, in order to purchase umbrella insurance.
Even when you have umbrella insurance, your car or home insurance is your first line of defense. For example, if you are liable for $2 million in a car accident and your auto insurance covers $500,000 of liability, your auto policy covers the first $500,000. Your umbrella policy covers the remaining $1.5 million, assuming your policy covers the incident and that you purchased that much coverage. If you are liable for $250,000 in an accident on your property and your homeowners insurance covers $300,000, your umbrella policy won't be needed.
If you insure a motorcycle, ATV, golf cart, snowmobile, motorhome or watercraft, your umbrella policy may provide additional liability coverage on top of those policies as well. Be sure to check with your carrier to confirm your coverage on these types of vehicles.
A single umbrella policy typically covers all of your family members who are residents of your household.
Essentially, an umbrella policy gives you excess liability coverage on top of what your other policies provide. If you're at fault for a serious accident, you'll need it.
Umbrella insurance also gives you liability coverage in instances where other policies don't. Examples include driving in a foreign country or renting a boat.
If you're curious about how umbrella insurance might play a role in protecting the life you've built or plan to build, come by our office or give our team a call and we'll be glad to discuss your options.