News
As much as you've been waiting for this moment, you've been dreading it, too: your teen has passed the state driving test and is now an officially licensed driver. You no longer have to taxi him or her to school, to practice, or to friends' houses.

But, your newfound convenience isn't without concern. Of the many things you worry about with your young driver, including your child's safety, high on the list is the cost of insuring your teen. So, let's take a look at what goes into teen car insurance rates so you can better understand what may be awaiting you.
Do Teenage Drivers Increase Car Insurance Rates?
In most cases, yes. After all, you're extending your coverage to another driver, and that typically costs more. And, not just any driver, but an inexperienced one.

The direct impact on your car insurance rates can vary depending on the state where you live. That said, most states allow insurance companies to utilize the following factors in pricing coverage for a young driver:
Male or Female: Premiums are often driven by statistics. Unfortunately, this does not bode well for young male drivers. According to the Centers for Disease Control and Prevention (CDC), in 2013 the motor vehicle death rate for drivers and passengers ages 16 to 19 was almost twice as high for males vs. females.
Primary Driver: If your teen has her own vehicle, she will likely drive it more often than if she were sharing it. More time behind the wheel can mean higher rates, as your teen has gone from an occasional operator with limited use to a primary operator.
Type of vehicle: The make and model of a vehicle always impacts your car insurance costs. If it's a high-end vehicle, you can expect to pay more, particularly for an inexperienced driver. Always check how much a vehicle will cost to insure for a teen driver before you plunk down the cash for it.
Ask for Discounts for Your Teen Driver
It's true teen car insurance rates can be pricey, so be sure not to overlook opportunities to save. Your independent agent can help you better understand potential discounts that may be available to you. Here are a few common ways to save on teen car insurance, but these can vary by carrier:
Drivers education: Knowledge is power so many insurance carriers will provide a discount if a newly licensed driver takes a driver's education course. Ask your independent agent which courses may qualify you for a discount.
Good student: Most insurance companies provide a discount for students who have at least a B average. This may need to be verified each year, so be sure to keep a copy of the latest report card handy, given that this credit can be as much as 20 percent.
Electronic monitoring: Some insurance companies offer a discount if you adhere to safe driving habits as verified by an electronic monitoring device that plugs into your car's diagnostic port. In most cases, monitoring only lasts for a specified period, and you have access to the data collected.
Away at school without a car: If your young driver attends a boarding school or college more than 100 miles away, be sure to tell your insurance company. There is typically a large credit for this while still providing coverage when she's home.
In case you missed last month's issue of Clear Lake or Lost Creek Living Magazine...
Sponsor Spotlight: Meet Paul Paschall of Paschall Insurance Group, LLC
Written by Elizabeth McCabe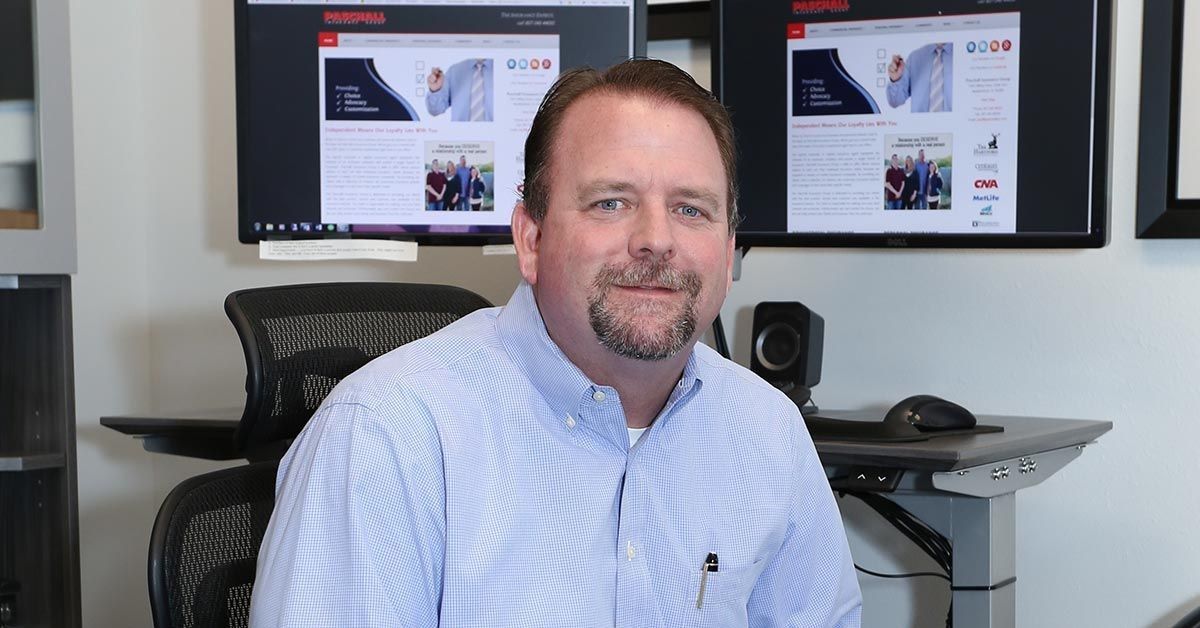 Love what you do and you will never work another day in your whole life. Paul Paschall of Paschall Insurance Group, LLC says, "As nerdy as it sounds, I love insurance!" He discovered his passion back in graduate school at Tarleton State University. He shares his story, "While in graduate school, insurance and the role it played in society was a topic that fueled my interest. A fellow graduate student who was established in the insurance industry, encouraged my curiosity and aided in navigating my career path. The guidance he provided helped me to meet the right people and led to my first opportunity in the industry, immediately upon graduation."
Paul began his insurance career as a captive agent with Farm Bureau Insurance in Johnson County. A few years later, he moved to the metroplex with his family where he opened his own office and became a captive agent for Allstate Insurance. Several years later, Paul purchased an existing Allstate agency in Weatherford. Paul says, "My family and I were ecstatic to move west and make our new home in Parker County!"
This dedicated insurance agent finds his work rewarding and fulfilling. Paul comments, "I love being an agent and helping people properly protect what matters most to them. It's my passion. As a captive agent, my ability was limited; I had only one 'brand' of insurance to offer my clients. After careful consideration and much prayer, I decided it was time to make a change that would allow me the freedom to represent my clients and not the 'brand.'" That's exactly what he did when he opened his own agency, Paschall Insurance Group, LLC.
Paul comments, "Paschall Insurance Group is an independent insurance agency that directly represents dozens of top rated insurance carriers. Our specialized team represents the interest of our clients first, not the insurance company." Personal insurance and commercial insurance is their specialty. Every team member in the office is fully licensed and has the ability to assist clients with questions and/or consultation.
After more than a decade of serving as a captive agent in the industry, Paul now enjoys the freedom and flexibility of providing his clients with options. He explains, "Our agency excels industry standards by providing individuals with an excellent and personal one-stop shopping experience. Exceptional products and service with competitive pricing is guaranteed because we are able to access coverage from a multitude of top rated insurance companies. Also, as the market and your insurance needs change, there is no reason to switch companies or shop rates – we take care of it all in-house for you!" This makes it extremely convenient for our clients.
What's great about Paschall Insurance Group is that each team member in the office consults; they don't sell. Paul adds, "Our team compiles all relevant information needed to price your insurance protection in all of our markets. We then analyze the protection choices and pricing and provide you with one or more solutions to evaluate. Additionally, none of our team members are paid sales commissions, nor do they have sales quotas. Therefore, this allows them to encourage the absolute best solution for your protection through consultation and a solutions-based approach."
Paul has some advice for the residents of Parker County. He says, "I highly recommend an annual review of your insurance policies, both commercial and personal." After all, coverages change, pricing changes, discounts change and the market appetite from insurance carrier to insurance carrier can change from year to year. Paul adds, "One major point is that you get what you pay for in this industry. Weekly, we have individuals visit our office who received a 'great deal' somewhere else and are often very disappointed when they have a claim or need servicing on their policy."
Paul's Background
Paul was born and raised in Irving, Texas and spent the next part of his life in Stephenville at Tarleton State University. He and his family have lived in Weatherford for 13 years. He is married to his wife Courtney and they celebrated their 20-year wedding anniversary this year. They are blessed with two children. Their son Walker is 18 and is a freshman, studying engineering at Texas A&M University. Gencye, their daughter, is 13 and a seventh grader at Hall Middle School.

When Paul isn't working, he likes to give back to the community as do his team members. He and his team volunteer locally for many different organizations. They are also members of local churches and would appreciate the opportunity to be your local insurance agency.
For more information on Paschall Insurance Group, just check out their website, www.paschallins.com, or give them a call at 817-341-4400. Paul and his highly qualified team would be honored to help you with all of your insurance needs.

Your home protects you from the elements, but heavy rains can weaken that protection. With a little maintenance and a lot of vigilance, it's not hard to stay safe and dry.

Rainstorms are a fact of life in many areas of the country, and they help keep things green, even if they keep you inside. But when they get heavy, it's time to start thinking about the potential impact all that water has on your home. The first step is finding and fixing any immediate problems as soon as it's safe to do so. Then, you'll want to take measures to prevent those problems from happening during the next downpour!

Where is all that rain going?
Your roof and gutters form a key line of defense for your home - and in a storm, they're vulnerable, because so many things can damage them. Trees, hail, and other objects can create weaknesses that might lead to leaks in your roof, so check for missing shingles and other issues. And keep your gutters clear so all that water drains properly.

Are you checking everywhere?
Water dripping from the ceiling is hard to miss. Water in your crawl space, however, can easily go undetected because hardly anyone ever checks there. Don't forget to look down there after a storm (or have a professional do it) to make sure everything is nice and dry. If you do see moisture, you'll want to get it out with a sump pump as soon as possible.

And don't just look up - another place to check is your home's exterior, whether it's siding, brick, or another material. Weak spots can be hard to see, so look at various times of the day in different lighting conditions.

Of course, you'll want to make sure your doors and windows are properly sealed to keep the elements out, too.

What about around your property?
Storm water has to go somewhere, and if your property doesn't drain well, or if runoff goes toward your foundation, you could have problems. So watch for patterns, and grade property so it drains away from your home if possible. Always be wary of hillsides and tilting trees after heavy storms, because the land might not be stable.

And don't forget to keep storm drains clear of leaves and other debris. This can prevent flooding both on the streets and your own property.

What should you do during the storm?
During powerful storms, stay inside. This is not the time to check your roof, your exterior, or your property unless there's an emergency and you know it's safe to go out. Monitor your interior, making sure no water is getting in. If it is, do what you can to alleviate the situation in the moment, even if it means just placing something under a leak to collect the water. For more serious problems, though, remember that safety is the most important thing. If your basement is flooding, for example, don't go down there - you could be trapped and even drown.

Thankfully, powerful storms only hit once in a while. Preparing for them, however, should be on your mind a lot more frequently, because the next one could be tomorrow.
A lot of people don't realize that damage from floods is excluded in their homeowners insurance policy. That's likely a big reason why a 2016 Insurance Institute of America survey showed that just 12% have flood insurance — many might think their homeowners policy covers them already.

So why isn't it covered? After all, insurance is supposed to protect you from the bad things that can happen to your home, and a flood can be particularly devastating.

Before we go any further, it is important to know that your homeowners insurance does cover a lot of those bad things that can happen — including some that you might even think of as "flooding." But there is a big difference, insurance-wise, between "water damage" and "flood damage." Water damage, for example, is when a pipe bursts in your home. Your homeowners policy covers that. What isn't covered is the type of flooding that occurs when a body of water outside your home overflows to a point where it enters your home.

A question of financial health

Flooding isn't covered by standard homeowners policies because it simply doesn't make financial sense for insurance companies. And it's not just about profits — companies need to remain financially healthy in order to pay claims and provide the protection promised to policyholders.

Before 1950, homeowners insurance used to cover flooding, but over time, the astronomical losses incurred from floods became too much of a burden. And by the early 1960s, all private insurance companies stopped covering flood damage because the risk was too high. This forced homeowners to bear these losses, which was an untenable situation; it's incredibly difficult, if not impossible, for the average homeowner to pay the entire cost of rebuilding their home.

What are your options?

The government eventually stepped in to offer a solution, providing disaster aid to homeowners and ultimately establishing the National Flood Insurance Program in 1968. Depending on where your home is located, you might be required to purchase flood insurance. And some lenders require it even in lower-risk areas: More than 20% of flood claims come from outside of known flood zones, according to the Federal Emergency Management Agency.

The government program is somewhat limited, however. It is available only in participating communities, and it offers only up to $350,000 in coverage — limits are $250,000 for the house structure and $100,000 for the contents of the house. That's why many private companies also offer additional insurance, known as "excess coverage," on top of the flood insurance the government offers.

Do you need flood insurance? If you're not in an area where it is required, it still might be worth considering. Your local independent agent can answer your questions easily and help you decide what is right for you.
Having a flat tire when driving is always a problem. But experiencing a flat or blowout while traveling on an interstate highway or other high-speed roadway can present special dangers. The National Safety Council offers these tips for coping with tire trouble:
At the first sign of tire trouble, grip the steering wheel firmly.
Don't slam on the brakes.
Let the car slow down gradually by taking your foot off the gas pedal.
Work your vehicle toward the breakdown lane or, if possible, toward an exit.
If it is necessary to change lanes, signal your intentions to drivers behind and do so smoothly and carefully, watching your mirrors and the traffic around you very closely.
Steer as your vehicle slows down. It is better to roll the car off the roadway (when you have slowed to 30 miles per hour) and into a safe place than it is to stop in traffic and risk a rear-end or side collision from other vehicles.
When all four wheels are off the pavement—brake lightly and cautiously until you stop.
Turn your emergency flashers on.
It's important to have the car well off the pavement and away from traffic before stopping, even if proceeding to a place of safety means rolling along slowly with the bad tire flapping. You can drive on a flat if you take it easy and avoid sudden moves. Don't worry about damaging the tire. It is probably ruined anyway.
Once off the road, put out reflectorized triangles behind your vehicle to alert other drivers. Keep your emergency flashers on. If you know how to change a tire, have the equipment and can do it safely without being near traffic, change the tire as you normally would.
Remember that being safe must take precedence over your schedule or whatever other concerns you may have. Changing a tire with traffic whizzing past can be nerve-wracking at best and dangerous at worst. Therefore, it may be best to get professional help if you have a tire problem or other breakdown on a multi-lane highway.
Raise your hood and tie something white to the radio antenna or hang it out a window so police officers or tow truck operators will know that you need help.
DO NOT stand behind or next to your vehicle. If possible, stand away from the vehicle and wait for help to arrive.
All interstate highways and major roads are patrolled regularly. Also, some highways have special "call-for-help" phones. If you have a cell phone you can call right from the roadside. It is inadvisable to walk on a multi-lane highway. However, if you can see a source of help and are able to reach it on foot, try the direct approach by walking but keeping as far from traffic as possible.
These are the most important things to remember when dealing with a flat tire on the highway:
DO NOT stop in traffic.
Get your vehicle completely away from the roadway before attempting to change a tire.
Tackle changing a tire only if you can do so without placing yourself in danger.
Finally, the Council recommends that you have a qualified mechanic check your vehicle after having a flat tire to be sure there is no residual damage from the bad tire or the aftermath of the flat.